Fort Collins Museum of Discovery
A Museum You Should Visit
If you've got kids, and you're in Fort Collins, CO, you should visit Fort Collins Museum of Discovery. There's a large amount of really amazing exhibits good for kids from about 2 to 13. There are some decent northern Colorado exhibits for older kids and adults, but the emphasis is on youngsters.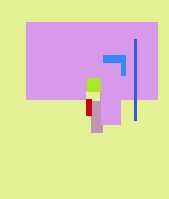 Above is a giagantic "Brio" train layout. The Museum of Discovery thoughtfully provides holes that 3-to-7 year olds can pop out of and work all of the layout. Outstanding fun!
They've got a lot of sound and sense-of-sound related exhibits right now (November 2022) including a drum set (in a little booth) various stringed instruments, a theremin (!!), and a string vibration thing I've never seen before.